Back to school time tends to bring out the best of intentions in organization for people. Yet the reality is often short-lived. The Krazy Coupon Lady shares some great tips that can help simplify things.
The Krazy Coupon Lady
1. Pack a car organizer with everything your child needs in the morning — including grab n' go breakfast.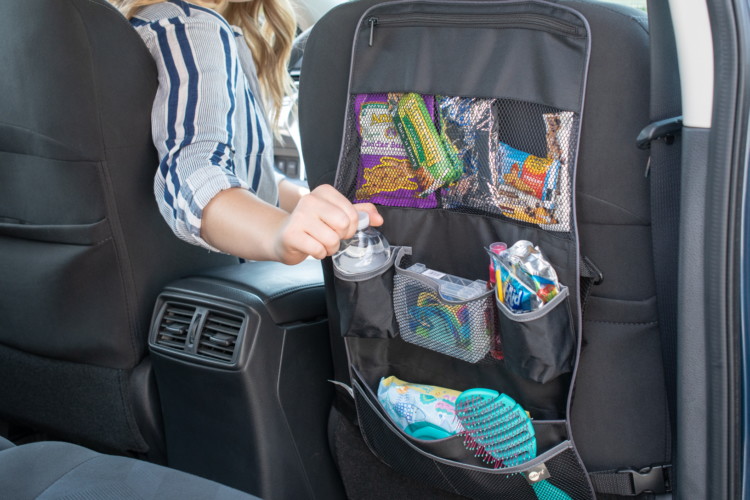 Fill a car organizer with everything your child may need on a busy morning.
I fill mine with an extra hairbrush, hair gel, baby wipes (for messy faces), hand sanitizer, water bottles and grab n' go breakfast options like protein-filled granola bars. I hang one in front of each child's seat so they can finish grooming or eating in the car before we get to the drop-off line.
2. Hang a file organizer with a slot for each family member.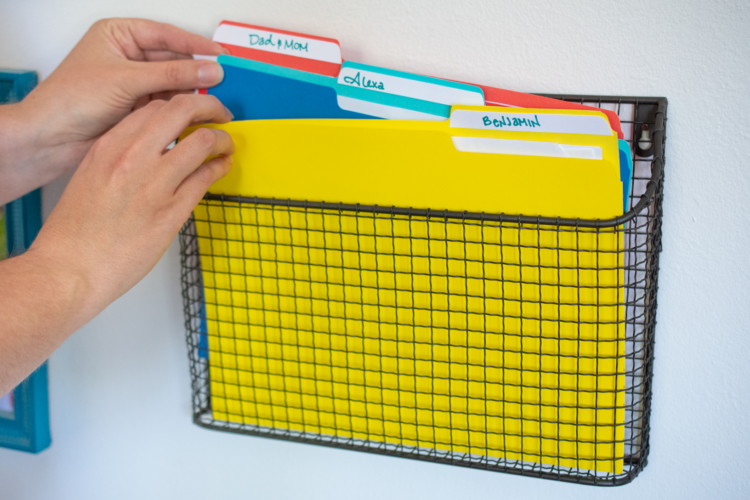 When you get home from school, go through your child's take-home folder (or ask them to do that!) and place papers in the right family member's file. Permission slips and event flyers go in mom and dad's slot, while homework and projects go into your child's.
Then you can each check your file when you have a quiet moment to focus!
TIP: Keep a checkbook and pen in your file so you won't have to hunt one down when you need it.
3. Pack extra-curricular equipment in a trunk organizer at the start of every week.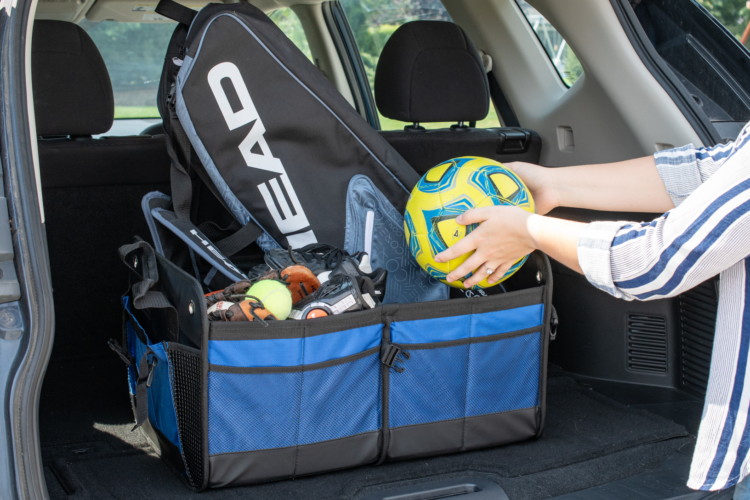 Let's face it, the family vehicle is more like a fully-equipped taxi. De-clutter your mudroom and save yourself from a week's worth of hunting down sports equipment by packing an organizer in your trunk every weekend before your busy weekday schedule begins.
TIP: Designate one slot to yourself and fill it with extra gym clothes to make quick workouts easier to fit into a busy day!
4. Make freezer meals once a month to keep your freezer well-stocked.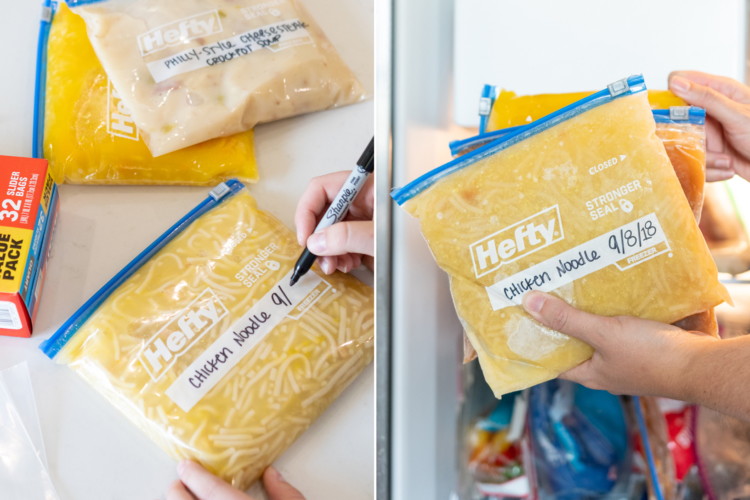 Commit to making 10-15 freezer meals once or twice per month.
You'll keep your family fed with healthy, homemade meals without rushing through that pre-dinner hour of doom when everyone needs help, the kids are hangry, and you're trying to do all the things while figuring out a frantic last-minute dinner plan.
5. Post the dinner schedule so everyone can make plans accordingly.

The whole family can make plans around what is planned for dinner. Maybe your teenage daughter hates spaghetti? She can choose that night to make plans with her friends instead of whining about the dinner choice.
6. Make a designated spot in your freezer for ice packs.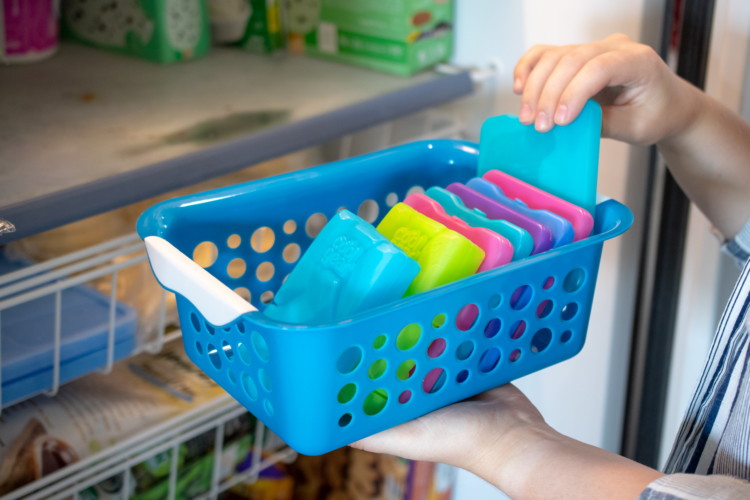 Stick a freezer-safe tupperware container you already have on hand in the freezer and fill it with ice packs. Your kids can easily find one to stick in their lunchbox before heading out.
7. Preemptively add emergency money to your child's lunch account at school.

Everyone forgets their lunch sometime.
Instead of having to rush home to grab it, or be stuck without cash to hand them in the school drop-off line, just add $10-$20 to their lunch account at the beginning of the school year that they can use when the inevitable happens.
8. Add a pocket folder to your child's backpack for loose papers.

I loathe finding balls of crumpled permission slips and homework at the bottom of a backpack.
Before the school year starts, stick a simple pocket folder in your child's backpack and tell them to put any loose papers into it instead.
9. Budget an extra $75 during back-to-school shopping for a semester of #selfcare.

Sometimes we parents need a little extra motivation to get through the school week. Instead of feeling guilty about hitting the Starbucks drive-thru after an especially crazy morning, just start the school year by gifting yourself a $75 gift card to your favorite coffee shop. That's enough for a guilt-free latte every Friday to celebrate the end of another busy week.
TIP: Refill the card during winter break when gift card promotions are taking place to get through the second semester, and be sure to read our Starbucks hacks to ensure you're getting the best value.
10. Program screen time limitations on devices before the school year starts.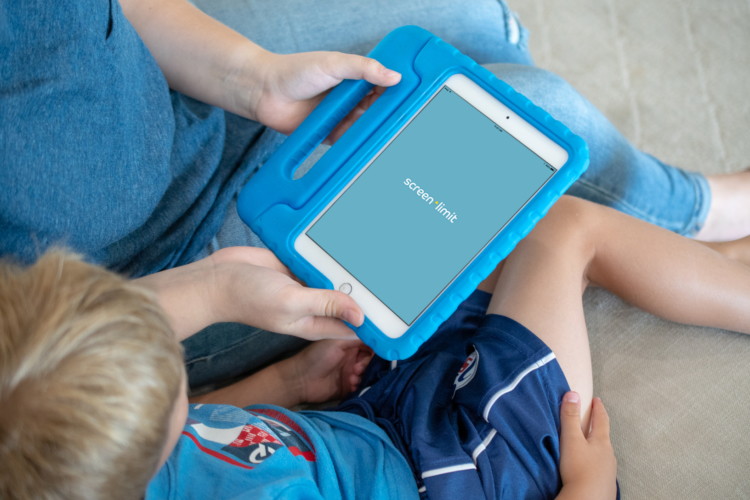 Free apps like ScreenLimit and Parental Control & Kid Tracker will help regulate your kids' screen time so you don't have to.
Just set the controls to allow 1-2 hours per day (or whatever your personal preference may be), so you can ensure there's plenty of time left for homework.
11. Create a drop-off point for backpacks, books, and assignments.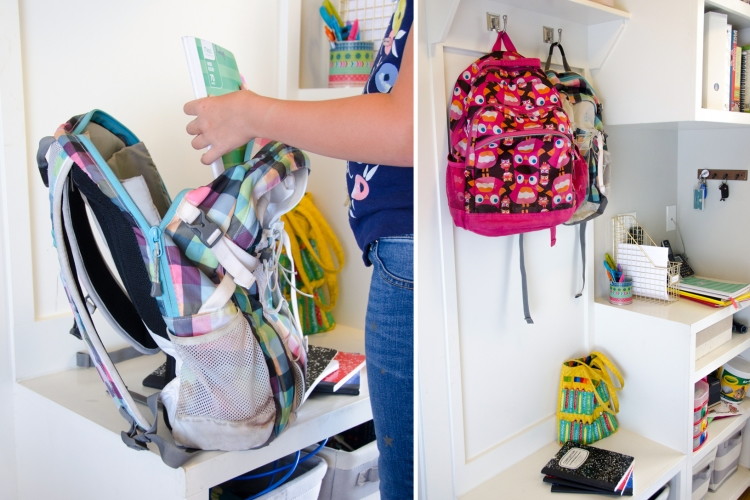 Establish a space for your kids to put their backpacks, lunch boxes and other school items.
12. Set up a parent inbox where your kids can put papers you need to sign.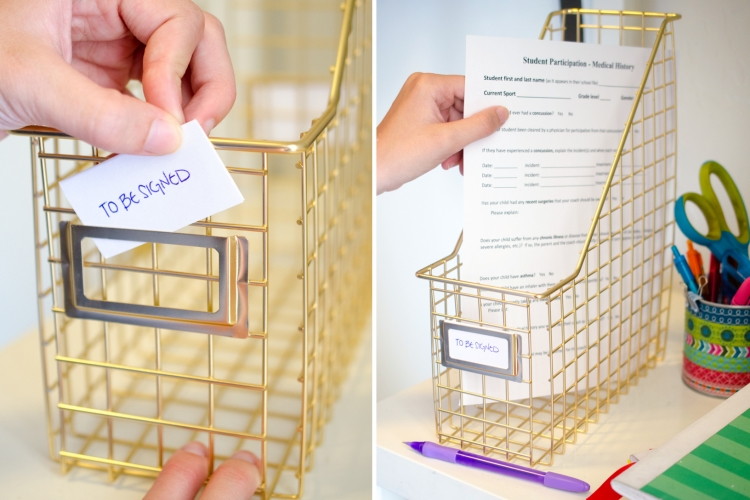 13. Use a sheet protector to create a dry-erase task board and insert your kids' to-do lists.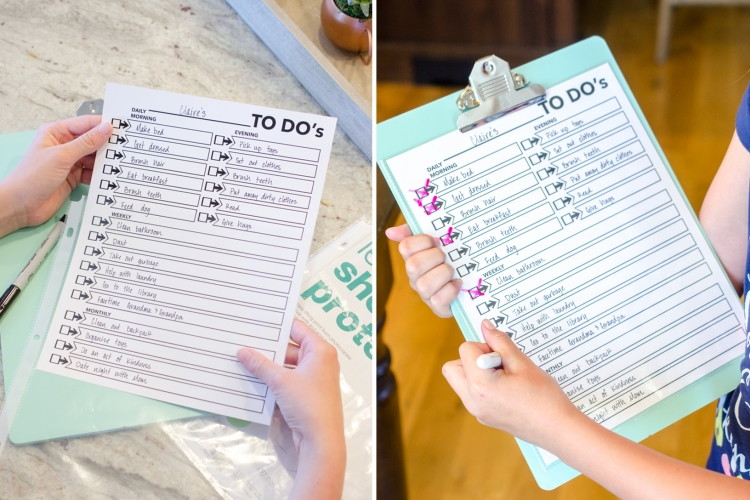 Print out this free template, or make your own and slip it into a sheet protector. Clip it to a clipboard and let your kids use a dry-erase marker to check off items once they've completed them.
14. Use a large wall calendar to keep track of family activities.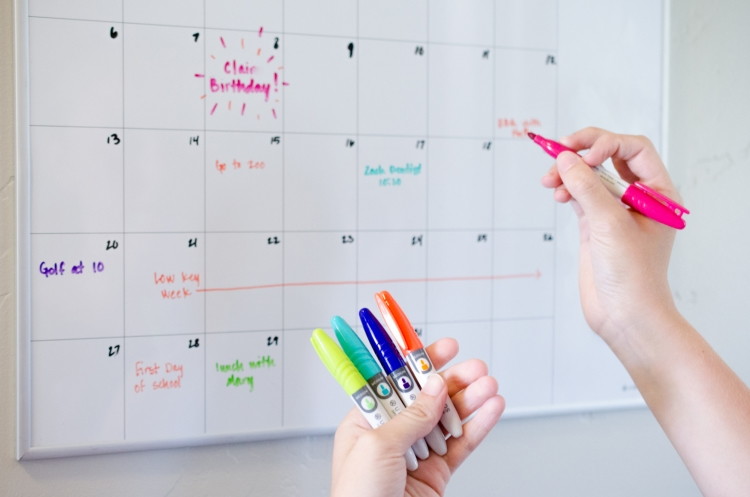 To make it easier to read, color code activities for each family member.
15. Create a homework station by filling a supply bin with everything your kids need to do their homework.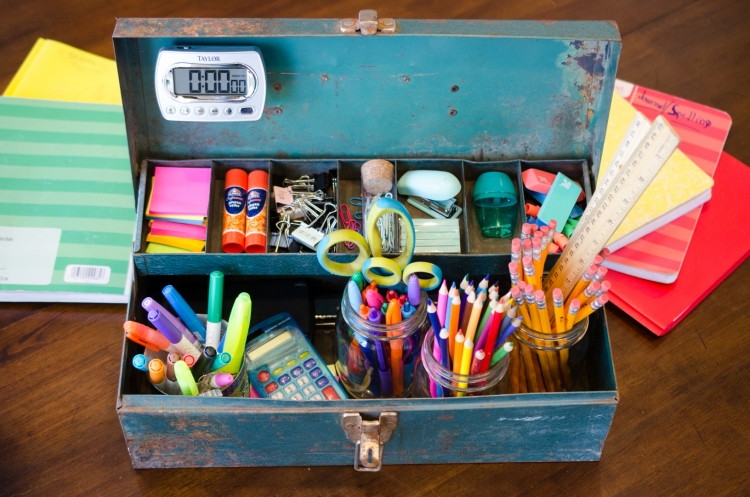 This has been a huge help for my kids and my sanity. When homework is done, cleanup is a cinch, and no one is ever complaining they can't find what they need!
16. Decorate clean, empty cans and use them to organize school supplies.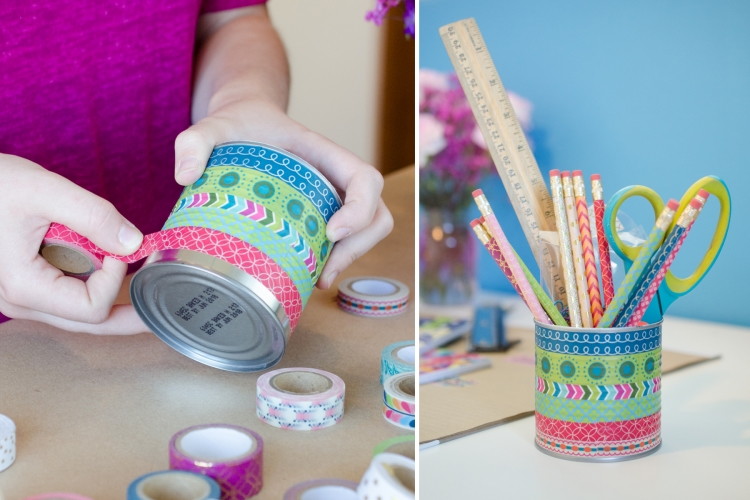 You can also use old cereal boxes, jars, Pringles cans or cups!
17. Prevent distractions with a homework station divider.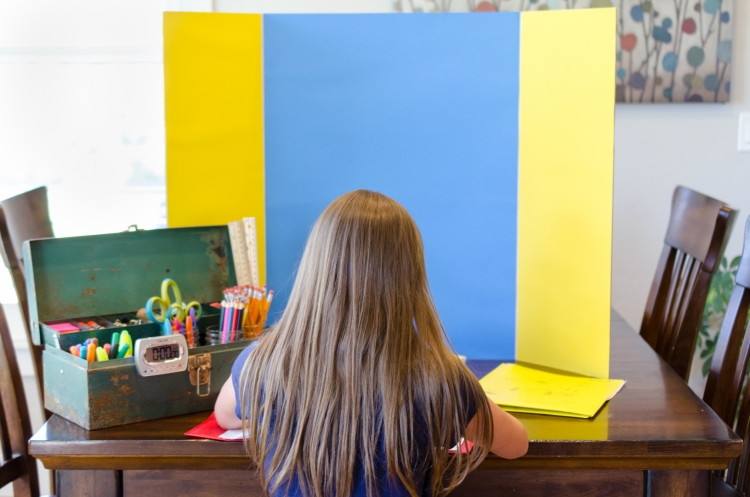 Just pick up a tri-fold poster board for a few bucks, then brighten it up with colored paper or poster board.
18. Use washi tape to label different notebooks for different subjects.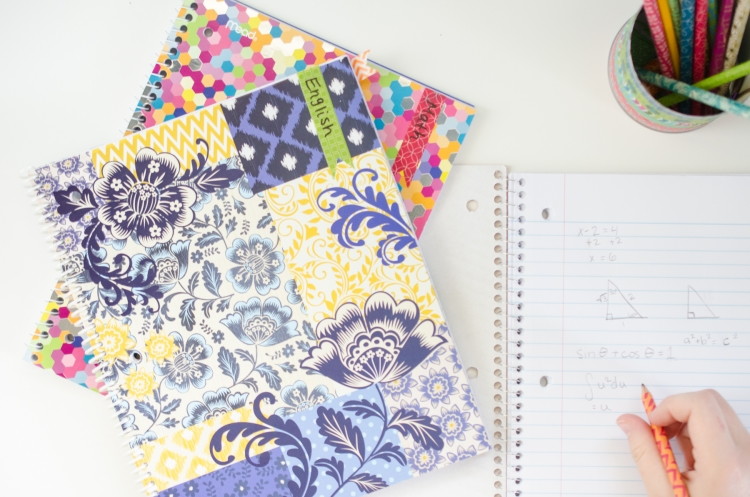 19. Make early morning routines easier with a hair-styling kit.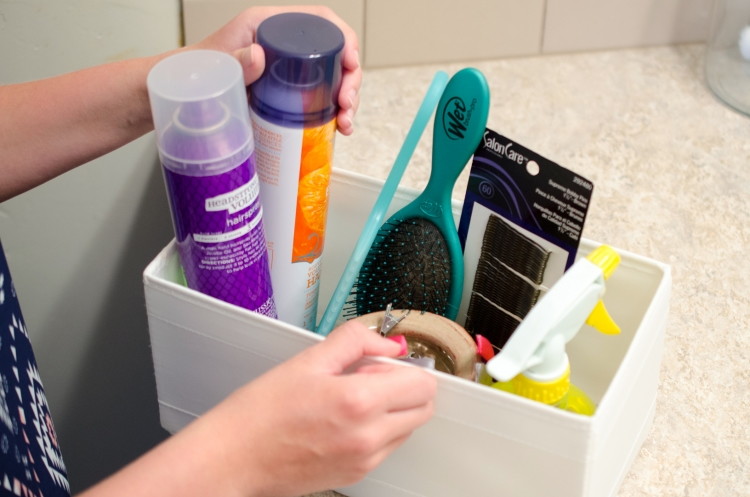 20. Choose outfits for the week, then store them in a hanging organizer.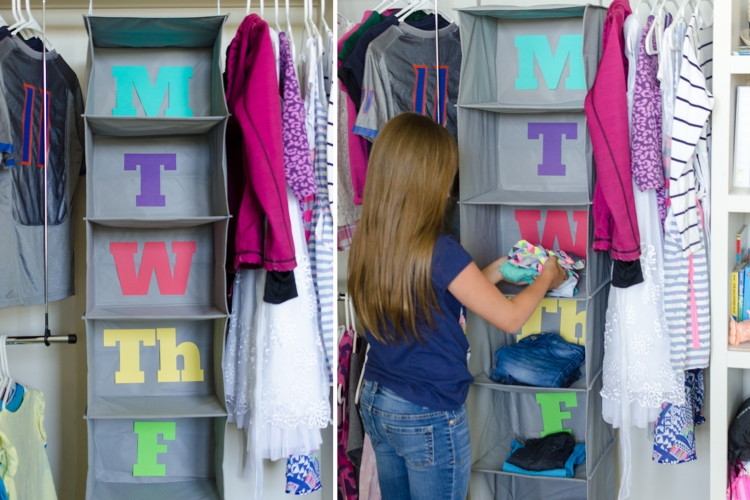 If your organizer has more then five pockets, store shoes for the week in the sixth.
21. Skip buying individually portioned snacks; instead buy in bulk and portion snacks out at home.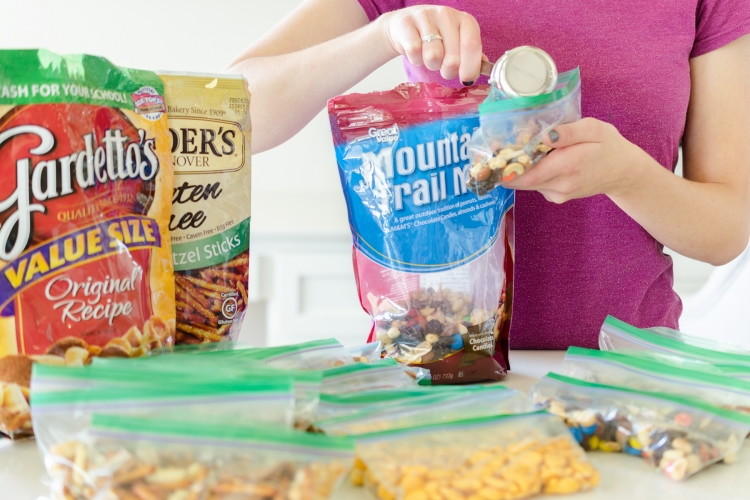 The secret to making bulk buying work for lunches is to spend a few minutes portioning it out right when you get home. If you don't do this, you'll just create extra stress for yourself when the morning rush hits, and you'll then wonder why you didn't spring for the smaller bags.
22. Keep library books in one place with a designated library-book basket.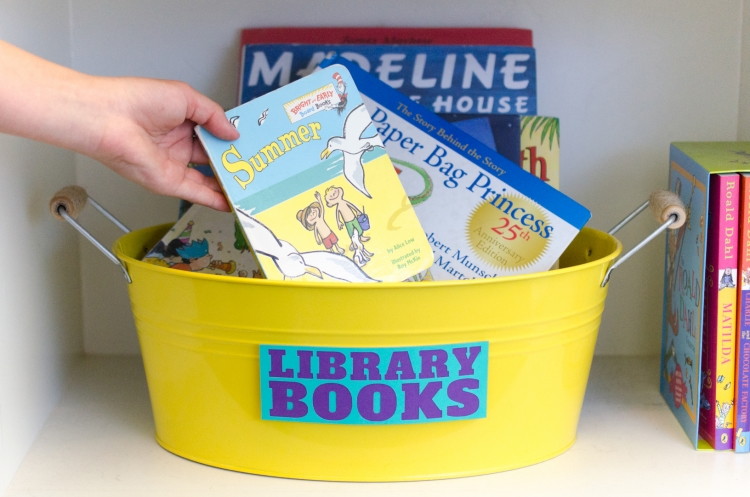 23. Use washi tape to reinforce hole punches.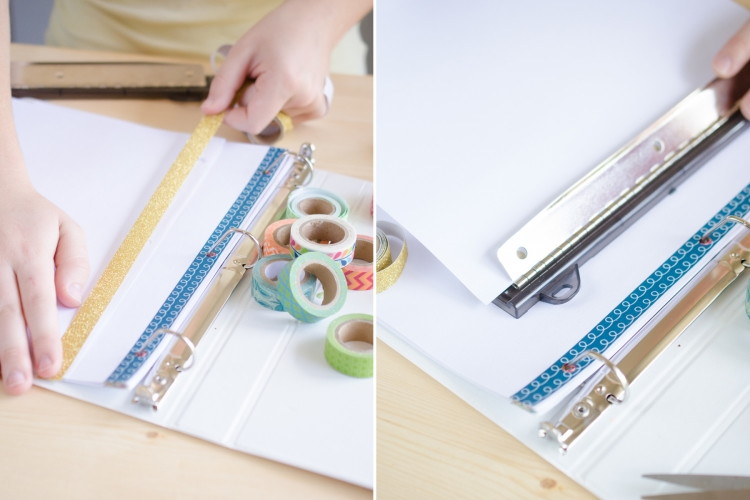 Prevent pages from tearing out of your kids' binders, and dress them up at the same time. #winning
24. Put each child's school work into a separate bin, and sort through it at the end of the school year.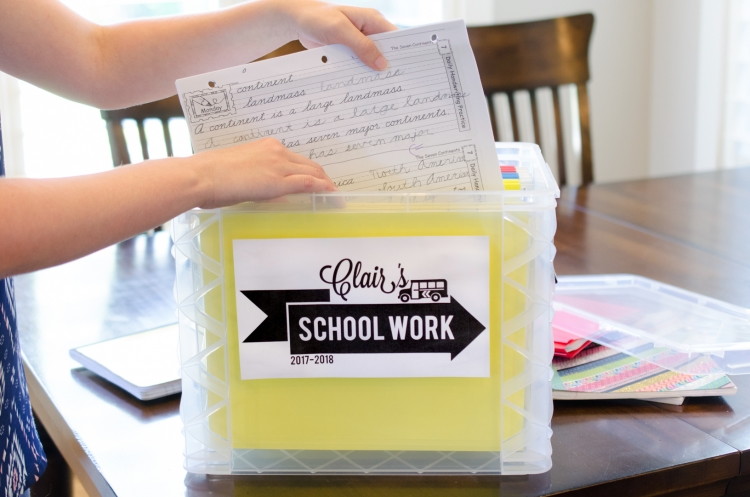 When the school year is over, sort through all the papers. Decide what to keep, scrapbook, and get rid of.
25. Take pictures of your child's artwork and create a photo book.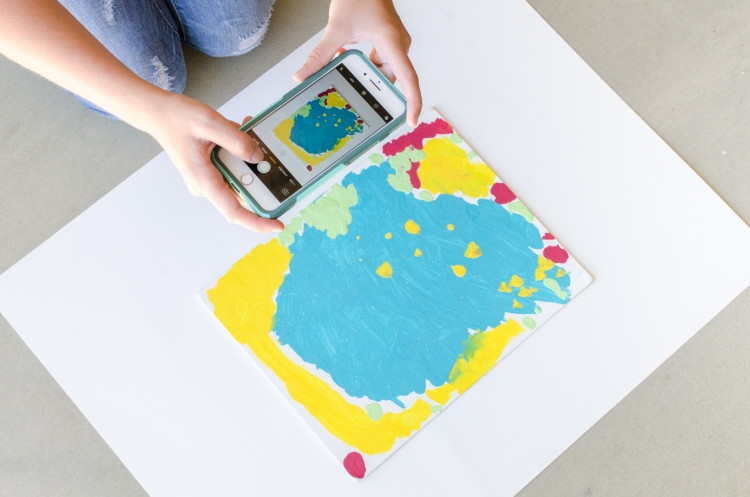 Rather than feeling the need to keep every item, photograph your kids' artwork to document in a photo book you can print at the end of the school year.
26. Make paper clip flags into bookmarks with paper clips and washi tape.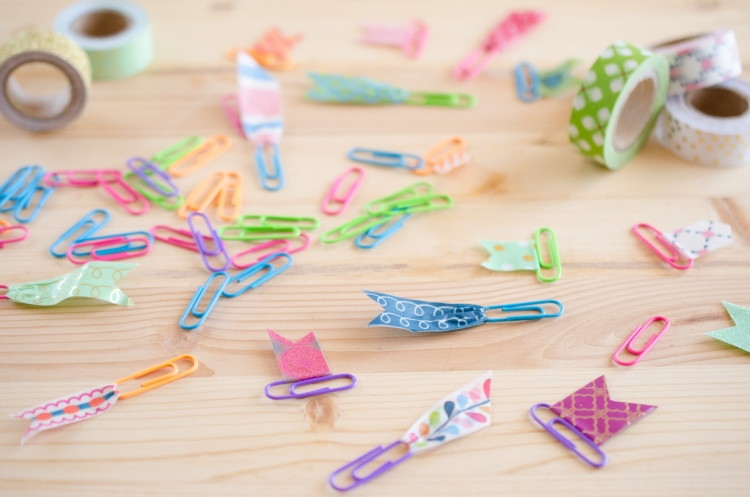 Use them as bookmarks for textbooks or notebooks!
27. Carry a "last-minute homework survival kit" in your car.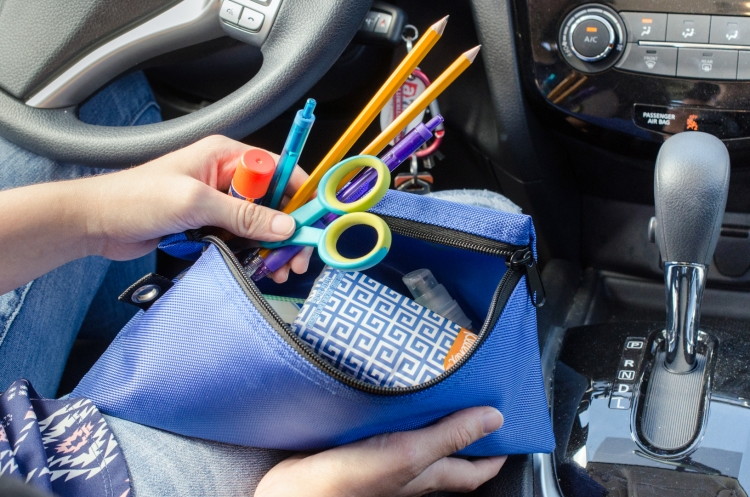 Be prepared with a glue stick to re-adhere the photo falling off your kiddo's science project poster board, or an extra pen to avoid frantically searching for one when your child pulls out that unsigned field trip form while sitting in the drop-off line at school.
Ideas for items to put in your kit:
Pens
Pencils
Pencil Sharpener
Glue Stick
Scissors
Hand Wipes
Hand Sanitizer
Kleenex
Non-Perishable Snacks
28. Download a math app like Photomath to check your child's math homework.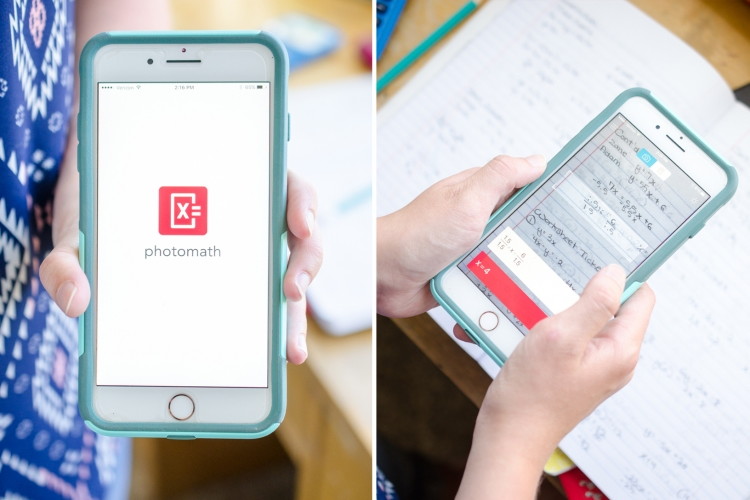 Photomath is a great tool for for parents who have forgotten certain math formulas. Ahem.
29. Make and freeze PB & J sandwiches ahead of time.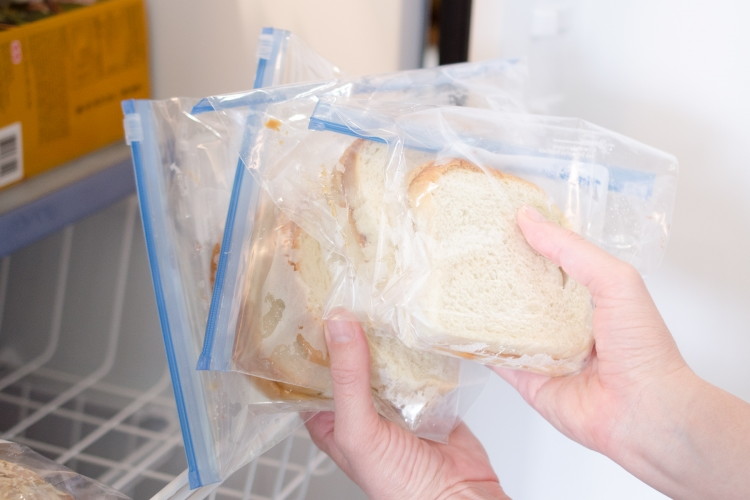 30. Stock your pantry and let the kids choose what items they want in their lunch.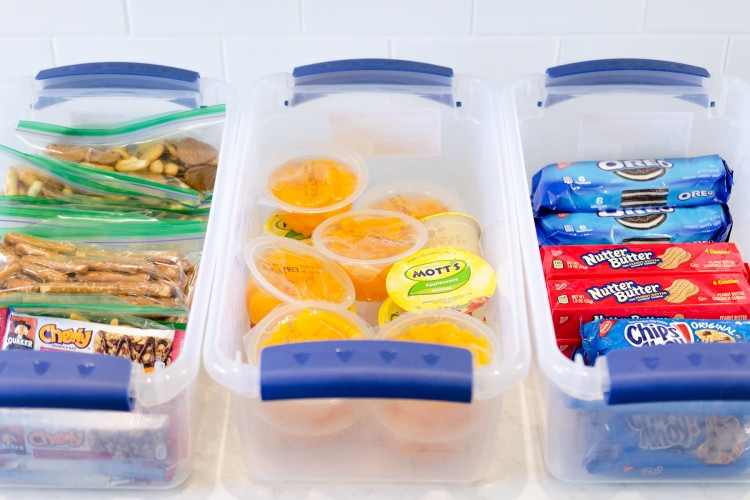 We keep three bins stocked in our pantry. One has pretzels, trail mix, and granola bar type stuff in it; another has fruit cups and applesauce; and the last one has treats.
The kids must choose one thing from each bin to put in their lunch. They get control over what they want to eat, and I only have to worry about the "main dish."
31. Put a "Don't Forget List" on your door every night so you don't forget anything.

32. Put your kids on their new wake/sleep schedule a week before school starts.